The Client had a strong creative vision for this beautiful 19th century townhouse in the Boltons Conservation Area in Kensington just outside of Chelsea. The proposals included a two-storey glazed rear extension, an additional storey on the outrigger and internal alterations.
The property has a certain pedigree having previously been owned by an ambassador from another European country. It forms part of a Grade II listed terrace designed by T. Blore "One of 2 facing terraces of yellow brick stucco houses." To inform the listed building consent RBKC planning department required a heritage statement and a structural report.
We conducted a number of inspections first to agree on suitable opening up locations. Then once these were approved by RBKC's Conservation Officer and carried out by the Client's contractor we re-attended to review and take measurements.
Our report discussed the existing structure, how the proposals could be achieved and included outline drawings of the proposals in an appendix. We were also able to advise the client on a way to avoid the need for underpinning beneath the additional storey, avoiding considerable cost, disruption and friction with the neighbours.
The planning application was approved successfully and the client was able to progress rapidly towards construction.
Excerpts from the structural report for planning are shown.
Architect: Kinsonov (07717 593004)
Structural Engineer: 99 Structural Engineers
Expert Structural Review: Byrne Looby
Geotechnical Engineer: Site Analytical Services
Photo: Agnese Sanvito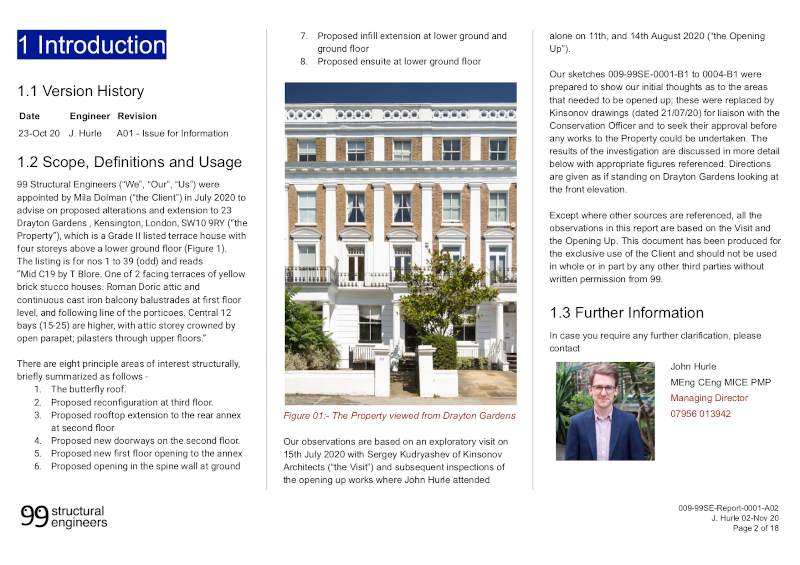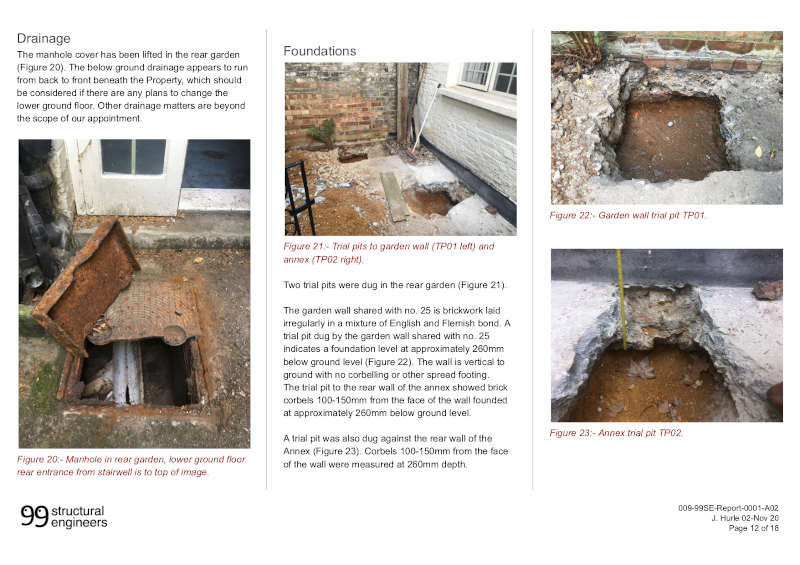 Structural Engineer Report Kensington Chelsea Listed Planning Structural Engineer Report Kensington Chelsea Listed Planning Structural Engineer Report Kensington Chelsea Listed Planning Structural Engineer Report Kensington Chelsea Listed Planning Structural Engineer Report Kensington Chelsea Listed Planning Structural Engineer Report Kensington Chelsea Listed Planning Structural Engineer Report Kensington Chelsea Listed Planning Structural Engineer Report Kensington Chelsea Listed Planning Structural Engineer Report Kensington Chelsea Listed Planning Structural Engineer Report Kensington Chelsea Listed Planning Structural Engineer Report Kensington Chelsea Listed Planning Structural Engineer Report Kensington Chelsea Listed Planning Structural Engineer Report Kensington Chelsea Listed Planning Structural Engineer Report Kensington Chelsea Listed Planning Structural Engineer Report Kensington Chelsea Listed Planning Structural Engineer Report Kensington Chelsea Listed Planning Structural Engineer Report Kensington Chelsea Listed Planning Structural Engineer Report Kensington Chelsea Listed Planning Structural Engineer Report Kensington Chelsea Listed Planning Structural Engineer Report Kensington Chelsea Listed Planning